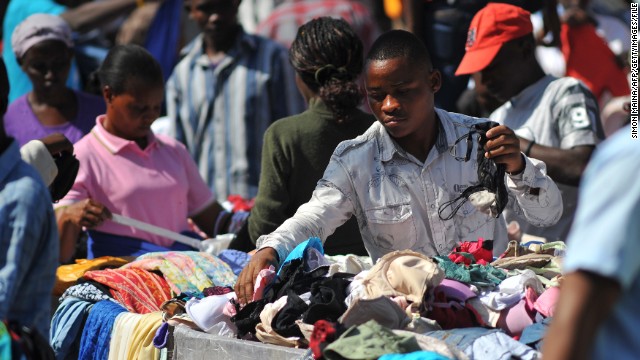 Clothes which had been used by someone usually in a more advanced country, then cleaned up and sent to a developing country is called
second hand clothes.
It is also known in Nigeria as "okirika"or "Tokunbo" or "bend-down-select" or "fairly used".
They are sold in markets and in most corners of our streets. In Port Harcourt, Rivers State you will see them at
Mile 1
under flyover,
in Yenagoa, Baylesa State they are at
Opolo Market
especially on Fridays.
Lagos (Nigeria's commercial hub) is where we have the largest market of the product in the country, known as the
Katangowa market
(the largest used clothing market on the continent, it was at a time described as the "Wall Street of second-hand clothes").
It implies that, the business of second hand clothes in Nigeria is very lucrative.
How lucrative is second hand clothes business?
Of course I understand that you will want to know how lucrative the business is, for this business to be lucrative you need to do the following;
* Buy only quality bales(first grade alone if possible)
* Understand how you can sell the used clothes to make profit
Sources of used clothing
Used clothing, a contraband item in Nigeria is usually moved into Nigeria illegally from neighboring countries. This clothing is imported from European countries and rumor has it that smart importers fetch the clothes from either refuse dump-sites, or from charity homes where they were donated to by good Samaritans who had used them.
Grades of Second Hand Clothes
A = Those in very good condition, which means they have no defect or any stain that will discredit its quality.
B = Second hand clothes that are not totally perfect, they sometimes comes with minor defect or stains with minor defects.
C = Clothes with major damage (RAG or WIPERS)
Why is Second Hand clothes preferred?
For some, these imported wears known as
bend-down-select
are just a natural choice. While others go for it because it's what they can afford since they don't have enough money to go to the boutiques. It might shock you know that even some of those popular boutiques that you know stock second-hand clothes (the trick to making it all sleek and looking posh is BRANDING).
A lady said her mum had introduced her to the fairly used clothes:
"Apart from the fact that they are economical buying them, they last longer. If I were to buy three 'tops' with N6,000 in a boutique, half of same amount would get me about 10 of such shirts as fairly used ones with better quality"
Do you know that in most cases, the used clothes you see being displayed by the road side are often the same being sold in some of our so called boutiques. If you don't believe me, find time to get a 'grade A' fairly used, wash it well, starch and iron it, and you would be surprised it is just of the same quality with the expensive ones being sold in the boutiques to unsuspecting people,"
she said.
For the guys, we buy a nice looking, well starched and ironed shirt from the sellers along the road. If you don't tell anyone, no one knows that it was used. They only ask you of the cost and the boutique it was bought from.
That's simply the secret of most smart looking guys today.
Findings also revealed that many relatively poor people prefer second hand western clothing, with the belief that it lasts longer than all these home-made ones. I know also that, many big and rich people too buy these clothes too. Ranging from suits, skirts, pretty tops for ladies, jeans trousers and nice trousers, as well as well tailored shirts.
Don't you agree to this?
"You know they are imported from abroad where the best materials were used to make them. So, buying a grade A used material is better than going to boutique to expend your hard-earned money on clothes sewn with inferior materials"
A seller said,
"the business is lucrative, and quite easy to begin. The good thing also is that there is always a ready market for it. With about N10,000 or less, one can purchase a bundle of Okrika in Lagos and adding transport fare to it, that would be about N14,000"
. She makes well over N30.000 out of that single bundle when sold in units.
For me, i think the only challenge is the stress involved and lots of travelling but if it profits you then go ahead and deal in this ever lucrative business (most especially students).
You see the yellow shirt above?
That's from
bend-down-select.
(I styled my bend-down shirt to fit and no one can second guess it).
Bend down select have saved a lot of Nigerians including me (smiles).
I'm sure it has saved you too. Don't fail to share your thoughts and opinion on buying and wearing bend-down-select clothes...
Hands Up!! If You Have Never Bought Second Hand Clothes Before
Reviewed by
Timi Buseri
on
February 08, 2018
Rating: